Description
INSTANT FISH OR SEAFOOD CURRY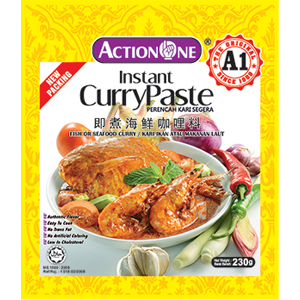 For Malaysian Market Only
Ingredients
Chilles, Spices, Onion, Garlic, Lemon Grass, Vegetable Oil, Sugar and Salt
Preparation
Sufficient for 4-6 persons
Prepare 1kg of fish or seafood
Tomatoes (sliced), onion (sliced), laksa flower(minced), tamarind juice or Coconut milk 120ml and water 200ml
Pour A1 Instant Curry Mix into wok, add in sliced tomatoes and onion. Stir fry using medium heat for one minute. pour in water, bring to boil and add in fish or seafood. when the curry is about cooked, pour in some tamarind juice or coconut milk. Sprinkle some laksa flower and serve.
即煮海鲜咖喱料
成分
辣椒,香料,葱头,蒜,香芋,植物油,糖及盐
煮法
可供4-6人食用
预备一公斤鱼,虾或海鲜
一粒番茄切片
一粒大葱切片
南姜花(叻沙花)切碎
罗望子汁(亚参水)或椰桨120毫升及清水200毫升
先将A1咖喱即桨料倒入锅,加入己切块番茄或大葱,以小火炒一分钟后,倒入清水,煮到沸时,加入鱼或海鲜。当咖喱即将熟时,倒入适量罗望子汁或椰桨,上席前,洒上切碎的南姜花,即可享用。
Perencah Kari Segera
IKAN & MAKANAN LAUT
Ramuan
Cili, Rempah, Bawang Merah, Bawang Putih, Serai, Minyak Sayuran, Gula dan Garam
Penyediam
Kandungan hidangan untuk 4-6 orang
Sediakan 1kg ikan atau makanan laut,
tomato, bawang besar, bunga kantan, jus asam jawa atau santan kelapa 120ml dan air 200ml
Tuangkan Perencah Kari Segera A1 ke dalam kuali, masukkan potongan tomato dan bawang besar tumis satu minit, masukkan air dan biarkan mendidih, masukkan ikan atau makanan laut, apabila hamper masak, tuangkan sedikit just asam jawa atau santa kelapa, Semburkan sedkit cebisan bunga kantan, hidangkan.
We are ready to answer your question. Please don't feel shy to ask us more!